Check Point® Software Technologies Ltd. (NASDAQ: CHKP), the largest pure-play security vendor globally, today announced Check Point SandBlast, a new Advanced Threat Prevention solution that provides a level of cyber protection unmatched in today's market. By using CPU-level threat detection to uncover threats at the pre-infection level, Check Point SandBlast elevates threat defense with evasion-resistant malware detection and comprehensive protection from even the most dangerous attacks, significantly reducing the risk of expensive breaches.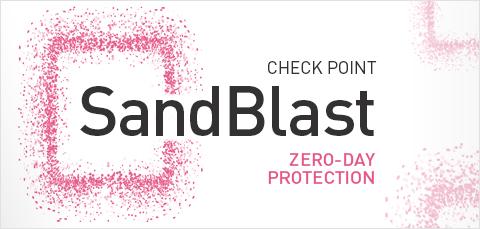 In the ongoing battle between hackers and security professionals, attackers are increasingly utilizing more sophisticated tools such as new zero-day attack methods and custom variants of existing malware to circumvent traditional sandboxing technology and slip into their victims' infrastructures undetected. These new attack vectors require a proactive approach with modern solutions and technologies that not only catch known threats, but are also able to identify and stop unknown malware the first time it is seen in the wild. Check Point's new cutting-edge CPU-level exploit detection engine is uniquely capable of identifying the most dangerous, zero-day threats in their infancy, before malware has an opportunity to deploy and even attempt to evade detection.
"The cyber war is raging on, and the key to staying ahead of the latest threats is to implement proactive security measures to maximize the quality of protection without sacrificing operational efficiency," says Mike Stiglianese, Managing Director, Axis Technology, LLC, and former Chief Information Technology Risk Officer at a major financial institution. "With the new CPU-level detection capabilities, Check Point continues to raise the bar with innovative and comprehensive security solutions to offer the most advanced artillery to defend against these sophisticated and highly targeted cyberattacks."
"In today's rapidly evolving threat landscape, security is now a higher priority than ever. Adding technology that can protect our critical business assets against newer malware, while also delivering content without interrupting business flow is a tremendous step forward," states Richard Peirce, Director, Infrastructure Services at Boston Properties. "It's important for us to carefully look at the resources required to deploy any new product in our environment. Our sandboxing solution by Check Point was deployed and running quickly, and operates with limited ongoing management oversight."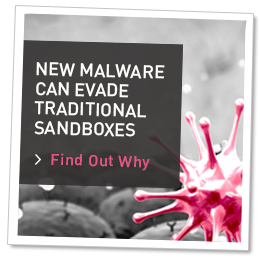 Key features of Check Point SandBlast include:
Identification of malware at the exploit phase, even before evasion techniques can be applied. It cannot be bypassed by delay loops, attempts to determine if a virtualized OS is in use, or other methods aimed at bypassing the sandbox.
Combines the power of CPU-level detection with OS-level emulation to evaluate content in a broad range of file types, including MS Office, PDF, flash, executables, and archives, among others.
Promptly delivering safe versions of data files with the integrated Threat Extraction capability, enabling real-world deployment to block malicious content, without introducing significant delay.
Check Point SandBlast is part of the Next Generation Threat Prevention product family and includes Threat Emulation and Threat Extraction. Threat Emulation combines the new CPU-level detection with recently evaluated OS-level sandboxing. NSS Breach Detection Systems testing named Check Point Threat Emulation as one of the top-scoring "Recommended" solutions for security effectiveness, performance and value. The new Check Point SandBlast also includes Threat Extraction, adding the capability to provide users with access to safe versions of content immediately while files are under evaluation. By combining CPU-level detection and Threat Extraction, Check Point SandBlast raises the bar even higher, providing the greatest level of proactive protection available.
"Enterprises are at risk of falling victim to targeted attacks, but implementing proactive, preventative technologies to block malware from entering the network will protect your business without compromising efficiency. Check Point SandBlast provides an additional layer of security from even the most sophisticated attacks by catching more malware, with minimal impact on delivery times," said Gil Shwed, Founder & CEO of Check Point Software Technologies. "The growth of our Threat Prevention portfolio continues to extend our depth of technology to enable us to continue arming our customers with innovative defensive strategies against cybercrime. Together with Check Point Mobile Threat Prevention, Check Point is moving quickly and aggressively to secure the future."
"The Asia Pacific region is facing a dichotomy of tremendous growth versus technology equivalence, whereby a company may grow very fast and yet its network security infrastructure may struggle to keep up with the growth," says Steve McWhirter, vice president, Asia, Middle East and Africa, Check Point Software Technologies. "With the new Check Point SandBlast technology, there is now a much more effective defense against many of the insidious advanced persistent threats (APTs) that may plague fast-growing and rapidly expanding enterprises throughout this region."
Availability
Check Point SandBlast is available immediately, as a cloud service or on-premise appliance solution, through our worldwide partners: http://partners.us.checkpoint.com/partnerlocator/.
Follow Check Point via:
Check Point Blog: http://blog.checkpoint.com/
Twitter: http://www.twitter.com/checkpointsw
Facebook: http://www.facebook.com/checkpointsoftware
YouTube: http://www.youtube.com/user/CPGlobal
LinkedIn: https://www.linkedin.com/company/check-point-software-technologies
Latest posts by Carol Ranas
(see all)
Related Posts: